The compilation: Atlantic Stereo
A cultural and collective exercise, Atlantic Stereo brings 24 Colombian and French artists together for a 11-track sound experience connecting two continents.
Nuits sonores, an urban festival showcasing electronic cultures in Lyon (France) since 2003, began building bridges with Colombia in 2017 as part of the French Institute's Année France—Colombie. The festival invited representatives from the new Colombian electronic scene to go on tour in France and organised a series of events in Colombia (Bogotá, Medellín, Manizales). This multi-city event in Colombia would go on to be repeated in 2018 and 2019, allowing a total of 24 of the most captivating artists on the French electronic scene to perform in Colombia over the course of three editions.
Between 2020 and 2021, although forced to cancel the 4th edition of Nuits sonores Colombia due to the health crisis, the festival team offered to pursue the exchange by initiating, with the support of the French Institute and the French Embassy in Colombia, the production of a brand new compilation.
Atlantic Stereo reflects the artistic riches found in two territories that Nuits sonores intends to carry on bringing together. A shared conversation in a moment of profound crisis for culture, thus becoming a perfect opportunity to reimagine it.
The compilation opens with artists who know how to listen to the world and the diversity of its sounds, as shown by the soaring Cumbia psychedelic track by Dani Boom (Systema Solar, El Leopardo...), Tushen Raï & Cornelius Doctor. It then digs into Reggaeton and Dancehall influences with a collaboration between Linapary, Simo Cell & Low Jack: a subtle alliance between the Colombian artist's sensual trap music on the one hand, and the kicks and heavy basses of the French electronic duo on the other.
With 'Full Friction' (Voiski and Verraco's track) and the Julianna and Zadig collaboration, the compilation moves on to another atmosphere: a more vaporous and syncopated one, made of powerful breaks and kicks, with ice-cold and bewitching electro and breakbeat tracks. Atlantic Stereo's last tracks eventually lean towards Dance and Club, inviting us to dance to Bambounou's solar techno, revisited by Gladkazuka, and the Balearic house remix of Laurent Garnier's ENCHANTé by Julio Victoria.
Atlantic Stereo is a compilation standing at the crossroads of different cultures, permeable to all sound research. It is also the result of a shared friendship and trust that drives Nuits sonores, determined to make such music resonate across all four corners of the globe.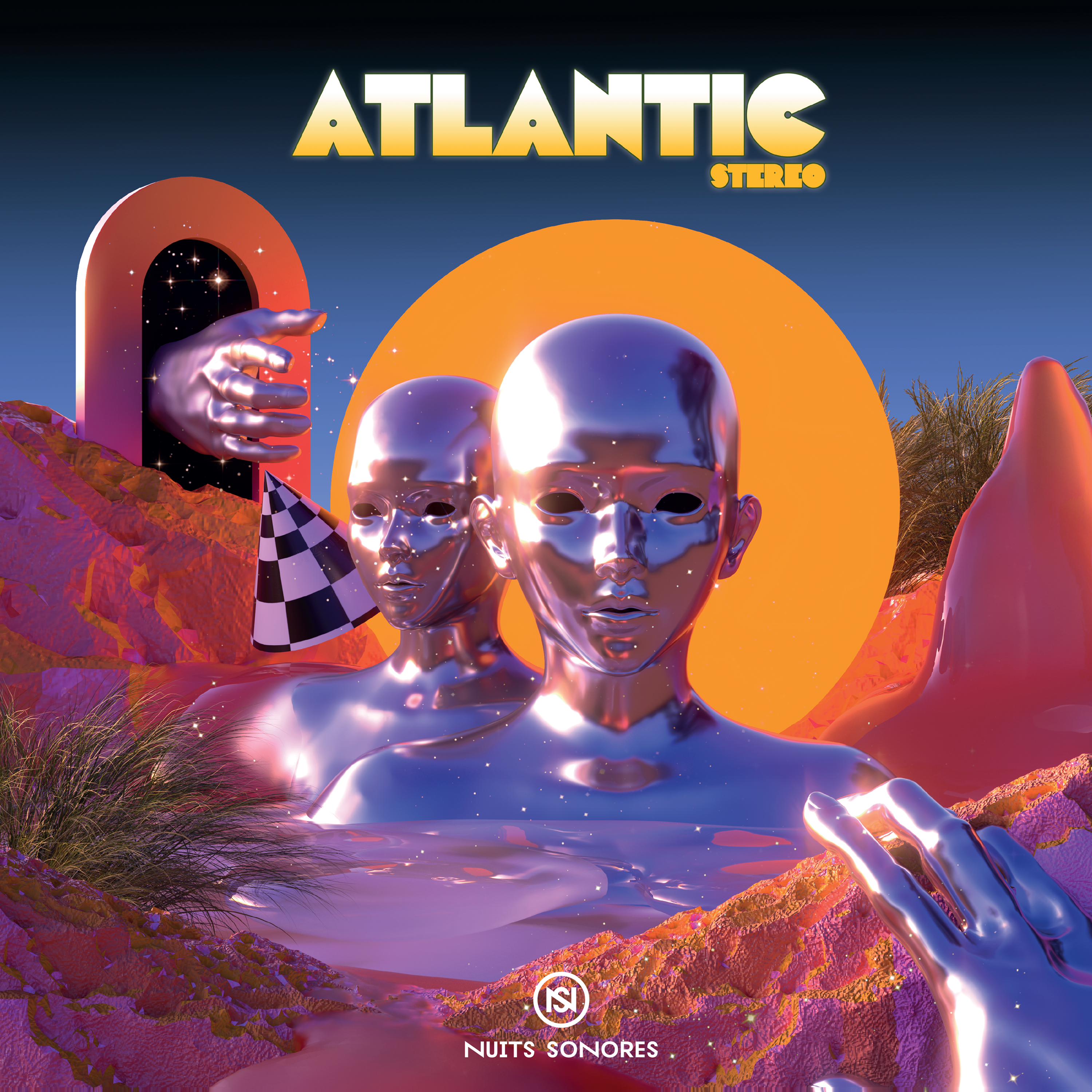 A1 - Dani Boom x Cornelius Doctor & Tushen Raï — Transatlantic (La France c'est pas Paris)
A2 - Dj Hermano — Discoloca (Sentiments' Samara mix)
B1 - Verraco x Voiski — Full Friction
B2 - Linapary x Simo Cell & Low Jack — P.U.T.A
B3 - Ghetto Kumbé — Pide Mas (Flore remix)
C1 - Julianna x Zadig — The Flying Soda
C2 - Retrograde Youth x Umwelt — Obsesión Inconsciente
C3 - ELO x Maelstrom — DespegaD1 - Pablo Bozzi — Riding Through Kyoto (Magdalena remix)
D1 - Pablo Bozzi — Riding Through Kyoto (Magdalena remix)
D2 - Bambounou — Next Person (Gladkazuka remix)
D3 - Laurent Garnier — ENCHANTé (Julio Victoria rework)
For the release of this compilation, we gave carte blanche to the media We are Europe & Colombian journalist Nathalia Guerrero to look into the state of the Colombian electronic scene, through the lens of journalists, artists and local figures.
The result is a series of 6 fascinating articles and two interviews with artists who participated in the compilation: